Earlier this year I blogged about an iPad app to get the latest Social Media statistics. And speaking about the iPad, one of my favorite apps to launch every day and discover content is Zite. Using Zite, I stumbled upon this info graphic (and you know how much I like info graphics!). This particular one captures what happens in the web in 1 minute.
Neville Hobson blogged about it and suggests it might be good to include in a future presentation. I'll certainly try to include it in my next presentation and see what kind of feedback I get.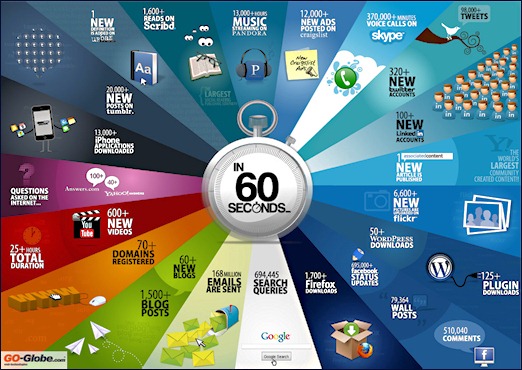 Here's a quick summary. In 1 minute there are...:
… more than 1,500 blog posts
… more than 600 new videos on YouTube
… more than 98,000 tweets

… more than 695,000 status updates on Facebook

… more than 168,000,000 emails sent
I noticed that Google+ is not there so maybe it's too new. The infographic makes me wonder… are there any stats on what percentage of those 168M emails are generated from social media sites like Facebook.